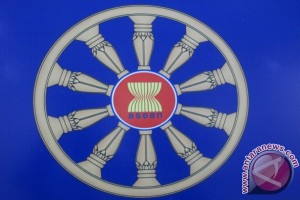 "One Community, One Identity". (ANTARA News)
Phnom Penh, Cambodia (ANTARA News) - Indonesia will encourage inclusive economic cooperation and development under the framework of ASEAN cooperation to achieve an ASEAN Community by 2015 as originally planned, Vice President Boediono said.
"ASEAN has come a long way from the simple regional grouping of 45 years ago. We have all experienced happy and difficult times. Slowly but surely, the governments and the peoples of ASEAN member states feel closer as a community that shares values, welfares and visions," he said in his address to the plenary session of the 20th ASEAN Summit held at the Peace Palace in Phnom Penh on Tuesday.
He noted that the Bali Concord II of 2003 had laid a basis for the creation of an ASEAN Community, while the ASEAN Charter of 2008 served as a legal basis for the attainment of the ASEAN Community`s vision.
"We should be proud that our region is enjoying peace and stability," he said.
The Vice President also touched upon the code of conduct for the South China Sea adopted at the ASEAN Summit in Bali in 2011.
"After agreeing upon it, it`s time for us to indulge in a discussion on a code of ethics as a crucial step," he said.
He said ASEAN is currently viewed as one of the important regional cooperation organizations, including as an important architect in regional and global politics. However, ASEAN still needs to do more to improve the quality of the organization for the future, he added.